I think the 20th century categories we typically use to think about politics are obsolete. We need something new. Many people are familiar with Nolan's chart, but I'm not satisfied with it because it measures how much government action does one want, rather than
goals
one wants the government to achieve.
Today there are five main political orientations, and I choose to use colours as metaphors for them. Each of them prioritizes certain principle.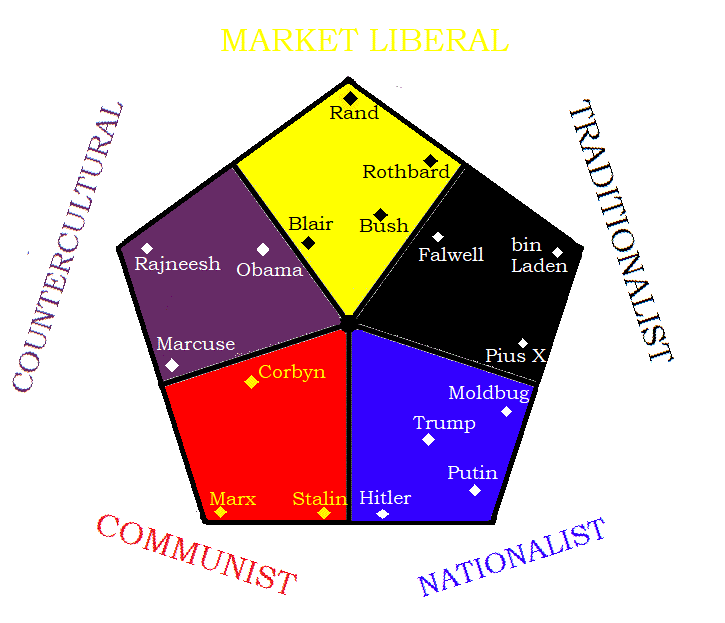 Purple
prioritizes self-expression. Fundamentally it's individualistic Leftism. It sprung from either the countercultural movements of late 20th century or progressive varieties of Christianity. Main concern of this orientation is to help the victimized wherever they are: oppressed minorities, animals, the environment itself. Its preferred economic system is either democratic socialism or capitalism with strong welfare system. Purples are sometimes called "bleeding hearts".
Red
prioritizes economic equality. Unlike purple, it is essentially tribal. Reds believe the state should be a tool of organized working class, hostile to business. This means Marxists or trade unionists whose loyalty is directed at the international working class. Their preferred economic system is command economy. They are typically most concerned with "bread and butter" issues, so there are no distinctly Red views on culture.
Yellow
prioritizes non-coercion. Yellows believe the best thing a government can do is not interfering with market forces. In terms of culture, they favour the right to privacy and freedom of speech. They include some neo-conservatives, market fundamentalists, classical liberals and the most extreme variety: libertarians. Some of them have pretty mystical reverence for the market.
Black
prioritizes traditional righteousness. They are basically religious conservatives: Islamists in the Middle East and Dominion Theology in America. Virtually non-existent in modern Europe. Hardcore varieties of Black seem determined to make the world a Kingdom of God, while more moderate Black types prefer a society based on "natural law" and the traditional family. Not really interested in economics.
Blue
prioritizes raw power. Typically lead by a strongman. Want to further the nation's interest without moral obstacles, to make it the strongest and dominate everyone else. In terms of culture, it requires promoting "manly" or "militaristic" values. The most exteme variety is obviously fascism, but it is rather rare in this day and age. More typical of our era are "right-wing populisms" like Trumpism in America and various euro-sceptics on the European side. In domestic politics, it aims at total security and builds a police state to achieve it.
Some movements are hybrids. I put Stalinism and Nazism on the Red-Blue border, alt-right on the Blue-Black border, neo-cons on Yellow-Black border and liberal globalism on Purple-Yellow border. Christian democracy is a more unusual Black-Purple hybrid, which cannot be shown on the pentagon. Their views on economics, foreign policy and the environment are Purple, but cultural conservatism comes from Black Thomism.
If you are curious, my economic views (compassionate capitalism) are on the Purple-Yellow border, while the way I think about culture is mostly Yellow (preserve privacy and freedom of speech) with some Black influences (dislike of pornography, drugs, etc.).
Using S-H, we can add that Purple and Black have strong connections to the prophetic archetype, since they focus on individual behaviour. Blue and Red have strong connections to the civic archetype, since they focus on the institutions. Yellow is more difficult, maybe nomadic? Most libertarians seem to be gen X.