---
Notable TV and radio series cancellations: - pbrower2a - 07-12-2016

Thread for the mention of long-running or strongly-rewarded TV and radio series.

Please -- at least five years or major awards. If due to the death of a star, then that fits in Obituaries. No DJ shows, either.

I understand that

A Prairie Home Companion

, which introduced us to the world of Lake Wobegone, ends as its star Garrison Keillor retires.


---
RE: Notable TV and radio series cancellations: - pbrower2a - 07-13-2016

X_4AD_84 Wrote:

RIP: "A Prairie Home Companion"

I missed this a few days ago:

https://www.mprnews.org/story/2016/07/02...airie-home

An ocean of people swept in to the Hollywood Bowl and sat down with Garrison Keillor for his final show as host of "A Prairie Home Companion."


"... and that's the news from Lake Wobegon"


---
RE: Notable TV and radio series cancellations: - gabrielle - 07-13-2016

Not sure if this thread is meant for news about current cancellations or to reminisce about past shows, but I watched this a couple of years ago on dvd and was very disappointed to learn it had been cancelled after two seasons, before the story could be completed.  A Depression-era epic fantasy.





from wikipedia:

Quote:

Carnivàle

 

/kɑːrnɪˈvæl/

[1]

 is an American 

television series

 set in the United States during the 

Great Depression

 and 

Dust Bowl

. In tracing the lives of two disparate groups of people, its story depicts the battle between 

good and evil

 and the struggle between 

free will

 and 

destiny

; the storyline mixes 

Christian theology

 with 

gnosticism

 and 

Masonic

 lore, particularly that of the 

Knights Templar

. The show was filmed in 

Santa Clarita, California

, and other 

Southern Californian

 locations.

Carnivàle was produced by 

HBO

 and ran for two seasons between September 14, 2003 and March 27, 2005. The show was created by 

Daniel Knauf

, who also served as executive producer with 

Ronald D. Moore

 and 

Howard Klein

. The incidental music was composed by 

Jeff Beal

. 

Nick Stahl

 and 

Clancy Brown

 starred as 

Ben Hawkins

 and 

Brother Justin Crowe

, respectively.

Early reviews praised the style of 

Carnivàle

 but questioned the approach and execution of the story. 

Carnivàle

's first episode set a new audience record for an HBO original series,

[2]

 but the show was unable to retain its ratings in its second season. 

Carnivàle

 was canceled after 24 episodes, cutting its intended six-season run short by four seasons. The show won five 

Emmys

 in 2004, was nominated for 10 further Emmy awards, and received numerous other nominations and industry awards between 2004 and 2006.
---
RE: Notable TV and radio series cancellations: - pbrower2a - 04-04-2017

The O'Reilly Factor on FoX Propaganda Channel will likely be gone after advertisers pull away.


Quote:At least 15 companies have pulled advertising from Fox News' "The O'Reilly Factor" after revelations that several women have accused host Bill O'Reilly of sexual harassment.

Following an explosive New York Times report that O'Reilly and Fox News had paid around $13 million in settlements addressing complaints brought by five of the conservative host's previous female colleagues, advertisers moved to remove their commercials from the hit show. Among the first were automakers Mercedes-Benz and Hyundai.

The exodus continued Tuesday, with Mitsubishi Motors, T. Rowe Price, Wayfair, Bayer, Credit Karma and Lexus among those confirming to reporters that they had pulled advertising from O'Reilly's show.

"The allegations are disturbing and, given the importance of women in every aspect of our business, we don't feel this is a good environment in which to advertise our products right now," Mercedes-Benz spokeswoman Donna Boland told CNN, which first reported the company's decision to pull advertising on Monday.

Hyundai announced its decision late Monday night.

"As a company we seek to partner with companies and programming that share our values of inclusion and diversity," a Hyundai spokesman said.

Emily Steel, an author of the Times' investigation, reported Hyundai's full statement on Twitter. (Sorry, as I can't copy the tweet).

No advertisers on a TV show on for-profit television means that the program dies.

http://www.huffingtonpost.com/entry/bill-oreilly-advertisers_us_58e3dafce4b0f4a923b29dc9?wlh&


---
RE: Notable TV and radio series cancellations: - pbrower2a - 04-06-2017

Because it says what is undeniably so: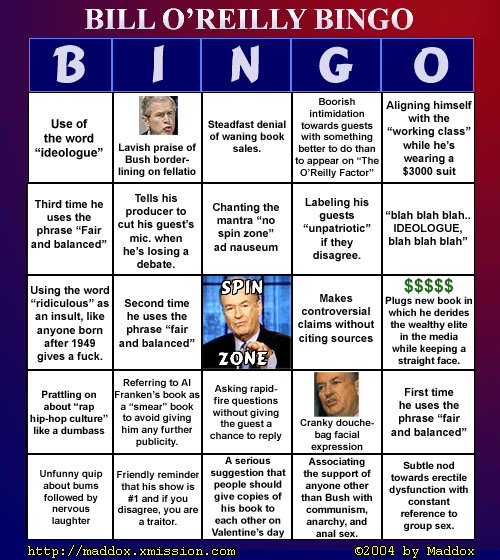 ---
RE: Notable TV and radio series cancellations: - Eric the Green - 04-06-2017

It has been a very long time since a TV or radio show was cancelled that I would be sorry about. Right now, they might as well cancel them all.


---
RE: Notable TV and radio series cancellations: - pbrower2a - 09-08-2017

Entirely due to his gross misconduct

http://www.huffingtonpost.com/entry/eric-bolling-fox-news_us_59b2fb2de4b0354e4411f212?ncid=inblnkushpmg00000009

Fox News has parted ways with host Eric Bolling, the network confirmed Friday, just over a month after an exclusive HuffPost report revealed Bolling sent inappropriate text messages to current and former female colleagues.

News of the departure comes after two HuffPost reports revealed a pattern of inappropriate behavior by Bolling, who co-hosts "Fox News Specialists." Fox News will cancel the program, it said in a statement.

"Eric Bolling and Fox have agreed to part ways amicably," the network said. "We thank Eric for his ten years of service to our loyal viewers and wish him the best of luck."

HuffPost's report, which was based on 14 sources, revealed that at least three current and former Fox colleagues said they had received inappropriate text messages from Bolling, including photos of male genitalia.

Less than a week after the two stories were published, Bolling filed notice that he was suing this reporter for defamation, claiming damages of $50 million.


---
RE: Notable TV and radio series cancellations: - pbrower2a - 11-30-2017

Minnesota Public Radio fired Garrison Keillor for sexual harassment.


---