The inauguration photos WERE fake.  The crowd (and CNN) were real... and the mall was somewhat empty.
https://www.cnn.com/2018/09/07/politics/...index.html
"Spicer, the White House press secretary, also reached out to the park service, and a staffer said she understood he asked "for NPS to provide photographs

in which it appeared the inauguration crowd filled the majority of the space in the photograph

."
I try to learn from all things.  What I learned from this is when you conclude something already, you might try to go in search of "evidence" to support your conclusion.  When, the Scientific Process is just the opposite: go in search of information and THEN form a conclusion (if you can).  Do we want to be like the liars?  If not, we need to stop seeking information that supports a conclusion and turn that around to the opposite.
A story from The Guardian is much more harsh:
https://www.theguardian.com/world/2018/s...tos-edited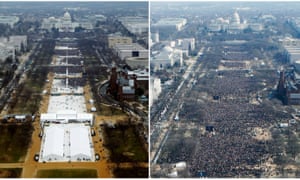 the images -- left is the actual photo... to the right is the 2008 election mall.
I think the statement was made it was "the highest attendance of any presidential election".  What total liars.  Guliani will be on CNN later to argue the photo is a creation of an Alex Jones in the left-wing... created to further demean the president in this time of turmoil.. and photographer will soon be under investigation.