The National Snow and Ice Data Center (NSIDC) hadn't updated its near-real time daily chart of Arctic sea ice levels in more than a month. A satellite that monitors the ice malfunctioned, forcing the center to suspend the service.
Researchers missed a lot during those dark weeks.
Using information from a different satellite, the NSIDC
provisionally updated its Arctic sea ice data
on May 6 — and the findings were alarming.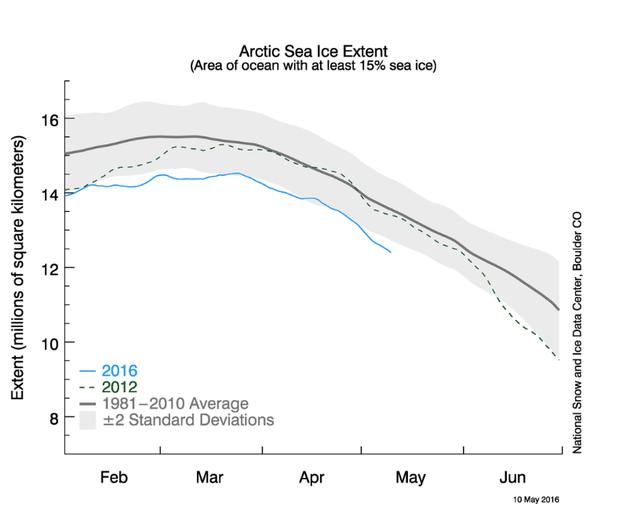 Comment from me: 2 standard deviations means less than a 5% chance of an event being random.

According to the data, the Arctic sea ice melt season is running as much as one month earlier than average. Unless weather patterns change dramatically, that could mean a record year for summer melting of Arctic ice.

The ice already appears to be disappearing at a pace far faster than in 2012, when Arctic ice extent hit a record low.  
Mark Serreze, the director of the NSIDC, told Mashable that there is evidence of fractures in the ice cover north of Greenland, which is "quite unusual" for this time of year.
"To me, it suggests a thinner, weaker ice cover," he said.
In 2013, the U.S. Navy predicted an ice-free Arctic this summer. Now some reports show this prediction may indeed be realized. 
This spring, the 
European Space Agency's CryoSat 2 satellite revealed that ice cover across the Arctic Ocean was, on average, 15 percent thinner than it was at the same time last year. In March, the NSIDC announced that Arctic sea ice had reached a record minimum for winter maximum extent. If Arctic sea ice levels plummet below 2012 levels this summer, it will be the second historic low of the year.

"I've never seen such a warm, crazy winter in the Arctic," Serreze said in a statement earlier this year. "The heat was relentless."

http://www.huffingtonpost.com/entry/arct...d4d6f22b14

---
What Will Ice-Free Arctic Summers Bring?
This summer's record melt suggests the Arctic may lose its ice cap seasonally sooner than expected. What impacts can we expect?
   By David Biello on September 24, 2012
On Sunday, September 16, (2012 -- PB) the sun did not rise above the horizon in the Arctic. Nevertheless enough of the sun's heat had poured over the North Pole during the summer months to cause the largest loss of Arctic sea ice cover since satellite records began in the 1970s. The record low 3.41 million square kilometers of ice shattered the previous low—4.17 million square kilometers—set in 2007. All told, since 1979, the Arctic sea ice minimum extent has shrunk by more than 50 percent—and even greater amounts of ice have been lost in the corresponding thinning of the ice, according to the U.S. National Snow and Ice Data Center (NSIDC).
"There is much more open ocean than there used to be," says NSIDC research scientist Walt Meier. "The volume is decreasing even faster than the extent [of surface area] as best as we can tell," based on new satellite measurements and thickness estimates provided by submarines. Once sea ice becomes thin enough, most or all of it may melt in a single summer.
Some ice scientists have begun to think that the Arctic might be ice-free in summer as soon as the end of this decade—leaving darker, heat-absorbing ocean waters to replace the bright white heat-reflecting sea ice. The question is: Then what happens? Although the nature and extent of these rapid changes are not yet fully understood by researchers, the impacts could range from regional weather-pattern changes to global climate feedbacks that exacerbate overall warming. As Meier says: "We expect there will be some effect…but we can't say exactly what the impacts have been or will be in future."
http://www.scientificamerican.com/articl...lications/
The ideal subject of totalitarian rule is not the convinced Nazi or the dedicated Communist  but instead the people for whom the distinction between fact and fiction, true and false, no longer exists -- Hannah Arendt.