05-13-2020, 07:32 PM (This post was last modified: 05-13-2020, 08:03 PM by Eric the Green.)
My essay from the UU Band of Writers:
"Fly Away"
Fly Away (The Who and Our Generations)
by E. Alan Meece
UU Band of Writers
Eric A Meece, originally written for the meeting of March 1, 2020, read at the meeting of May 3, 2020
Prompt: Who, What, When, Where, Why, How
Who

 was the best rock music group ever? 

The Who

, that's 

who

. 

When

 did they become the best? In 1965, 

when

 they wrote and performed their great anthem, My Generation. Whose generation were they singing about? The baby boomers, 

who

 were born sometime during or after the big war until sometime before 1965. 

Why

 was the song so great? Because Pete wrote the catchy words and music and Roger performed it with swagger. And because no-one before had been so bold as to do a song about their whole generation. 

How

 could they claim that every girl and every guy in it was trying to cause a big sensation? This was a generalization about a generation. Were they the greatest generation? No, that was their parents 

who

 fought the war. Actually, no generation was the greatest, and since then every generation blames other generations for their own problems. But The 

Who

's song helped make that possible by popularizing the idea that we could identify ourselves with a whole generation.
What

 made the song so special, and so emblematic of a generation? One reason was that it provided the occasion for The 

Who

 to tear up and destroy their own instruments at the end. They broke up so much gear nobody thought it was real. And their generation was later told that it destroyed things. 

When

 performing, it was said, they would jump around so much that if it weren't for John the bass player holding them steady and grounding them, they would all just

 fly away

. And they were thieves, too. Pete stole words for the song from Brian Wilson of the Beach Boys (The Who drummer Keith Moon's favorite band) and from Buddy Holly who wrote a song called Not Fade Away. Later, on the 

Who

's Next album, Pete copied the style of composer Terry Riley on a song called Baba O'Riley that could also have been called "Teen Age Wasteland." This song was itself "copied" by the teen-aged Millennial-Generation's boy band One Direction on the Best Song Ever. This was a tribute to The 

Who

, 

who

 had 

indeed

 created 

the best song ever

 on the 

Who

's Next album, although 

that

 song was actually called Won't Get Fooled Again (also influenced by Terry Riley; and by Beethoven too; see in the links below).
So, others copied The 

Who

 too. Maybe The Clash were inspired by The 

Who

's on-stage antics to name themselves after them. They did a song called Should I Stay or Should I Go, as if they might decide to fly away. The Clash were a typical Generation X punk group 

who

 followed The 

Who

's style and music to an extent. Actually, the idea of generations was also popularized earlier by a couple of charismatic American presidents with famous initials, FDR and JFK. Roosevelt said that there is a mysterious cycle in human events that gave 

his

 generation a rendevous with destiny. And Kennedy said that the torch had been passed to 

his

 new generation. Speaking of copying, an old war baby named 

Bernard

, now (as of March 1) running for president, quoted JFK in his latest ad, who said " We choose to go to the Moon in this decade and do the other things, not because they are easy, but because they are hard. " And this old guy is inspiring a new generation to do hard things too, as we all choose whether we should go to a new place or stay in the status quo in the 2020s. And I'm glad that I can quote words and songs that are not just from my own generation. The only question now is, 

where

 is this new place?
The 

Who

's drummer, the late Keith Moon, used to knock over his drums and break his drum sticks while playing and sent them flying away. Rumor has it that in honor of JFK, Keith Moon and the other members of The 

Who

 are going to fly to the Moon to perform a reunion concert there. Should they go or should they stay? Surely it would be the best concert ever. They will make their rendevous in the spirit as well as in the flesh, using both astral travel and space travel. 

How

 will they manage it? Just by expanding on their ability to 

fly away

, and by quoting George 

Bernard

 Shaw, as the Kennedys did, 

who

 said "some people see things that are and say 

why

; others dream of things that never were and say 

why

 

not

?" Maybe they'll go in Buddy Holly's 1957 Chevy which he drove to the levy. And we'll all go together with them and fly away to the Moon and hear them play the best song ever, and hope that our new boss is better than our old boss, as he (Bernard) 

promises us The Moon

.
Fly Away: The Who and Our Generations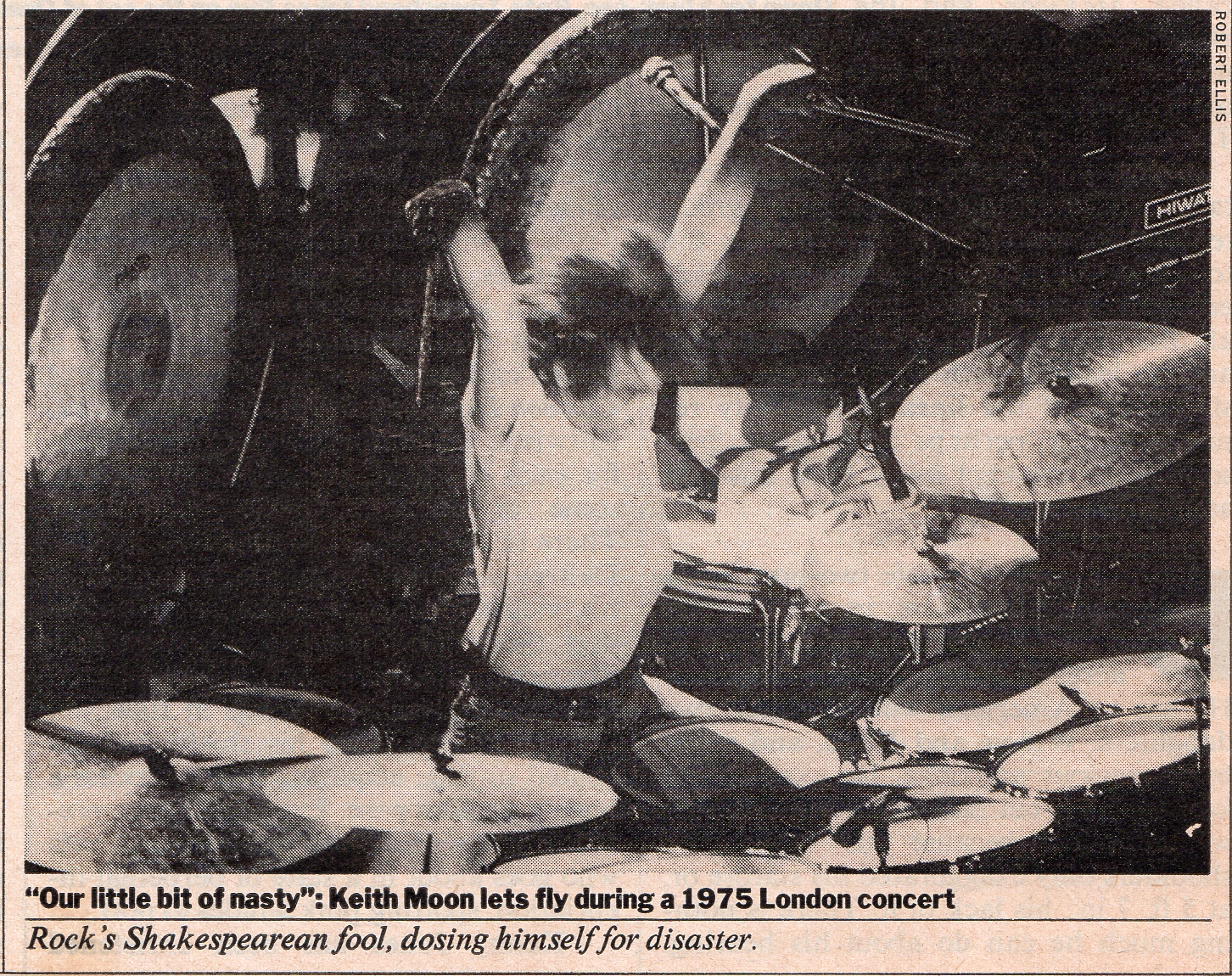 ---
MORE LINKS
My Band of Writers Essays
Hallowed Ground, by E. Alan Meece
The Who website
The Who by wikipedia
Rock's Outer Limits, Jay Cocks' article on The Who in Time Magazine, Dec.17, 1979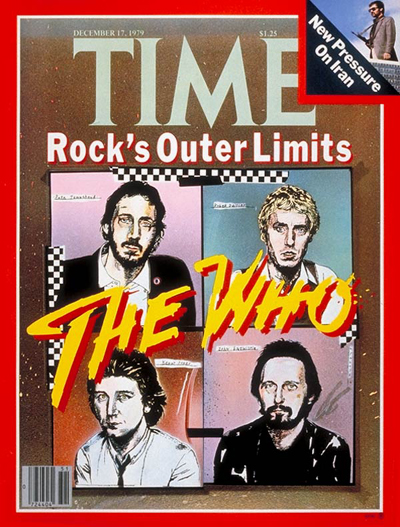 Encyclopedia Britannica article on The Who
John Entwistle biography
On Keith Moon, with other interesting articles on The Who
Roger Daltrey keeps the band together
Meet the new song, same as the old song!

 Most people don't know this, but the opening notes in the theme of The Who's Won't Get Fooled Again are almost the same as those of the main theme of Beethoven's Leonore Overture #3 from his opera 

Fidelio

, with 2 repeats of the dominant note added. It goes 1-3-5 (5) (5) 6. The topic of Fidelio itself was about the Revolution and the quest for freedom, celebrated in the Prisoner's Chorus or Hymn to Liberty from his opera. Kenneth Clark used Beethoven's music to accompany his program about romanticism and revolution called The Fallacies of Hope, which very likely inspired "Won't Get Fooled Again"-- The Who's song, especially considering the lyrics, would even be an appropriate soundtrack for the documentary, along with Beethoven's music. The Beethoven Overture and the Who's epic song are strikingly similar. The opera tells how Leonore, disguised as a prison guard named "Fidelio", rescues her husband Florestan from death in a political prison, which some new boss or old boss had put her in. That's why this Overture was featured at the Amnesty International concert. Won't Get Fooled Again was also featured at an Amnesty International Program. These two pieces and Clark's documentary stir our hearts as we continue to strive for liberation from the rotten parchment bonds that tie us down. And even the opening notes of "La Marseillaise" (heard in The Fallacies of Hope) are similar to the main themes of these two works, as is the finale of Beethoven's 5th Symphony. These are songs that continue to 

reverberate

 in our souls today, as do the historic events they depict, and as Pete's synthesizer organ riff and Beethoven's striking ascending and descending motifs in the Overture represent. Even in the key descending motif in the Overture, Beethoven crafts the notes so each little descending phrase increases its sound and then cuts off as if it's moving backwards, just like the synthesizer sounds do in Pete's pioneering song, and in many other synthesizer phrases since then, as in this great one. Did Beethoven anticipate modern electronic music methods? He even includes what might be called an orchestral "scream" afterwards, like Roger's, and then ends the piece in the same way! We are sent escaping from the boss and flying away!
The Who - All This Music Must Fade (New Song) (2019) But it 

won't

 fade away! The Who, as good as new! Ageless and back already! "Oh, this sound that we share has already been played. And it hangs in the air" "I don't mind, other guys ripping off my song, I'd be a liar, if I said I never done no wrong."-- Pete. To get this on the radio in the USA, they'll have to cut the last word! Just like they still have to censor a few other great songs of theirs to get past George W Bush and Janet Jackson! Shame on all the censors! Same as the old boss!
Ball and Chain
 Another great new one! This one is also extremely relevant to the above discussion. We've got our own political prisoners today. And smoke in our forests too.
Fidelio by Beethoven
About the generations and the rendevous with destiny, see The Fourth Turning:
An American Prophecy - What the Cycles of History Tell Us About America's Next Rendezvous with Destiny
Fly Away by Lenny Kravitz (1998) forewarned! very sexy video, typical of the era
Iconic "Fly Away" scenes in epic movies include 

The Wizard of Oz

 in which Dorothy sings "birds fly over the rainbow, why then can't I?" and 

Forrest Gump

 when Jenny asks God to make her a bird so she could fly away from her father.
First Unitarian Church of San Jose