November 2, 2017
Declining Confidence in Trump, Lower Job Ratings for Congressional Leaders
Deficit concerns plummet among members of both parties
Growing numbers of Americans express little or no confidence in Donald Trump to handle an international crisis, manage the executive branch effectively and work effectively with Congress. And today, just 34% approve of Trump's overall job performance, while 59% disapprove.
(the material above would fit in a poll of the President's approval ratings, but there is much more to see here -- yours truly)
However, Trump's job approval rating is higher than those of Republican and Democratic congressional leaders. Just 22% approve of the way Republican congressional leaders are doing their jobs, down 12 percentage points since February. Job ratings for Democratic leaders are not quite as negative (29% approve), though also are lower than in February (37%).
The new national survey by Pew Research Center, conducted Oct. 25-30 among 1,504 adults, finds that Trump's job rating is lower than it was in June and February (39% on each occasion). Most Americans continue to have strong feelings about the president, with about twice as many strongly disapproving of his job performance as strongly approving (51% to 25%).
Trump engenders less confidence in handling various aspects of his job than he did in April. As he prepares for his first presidential visit to Asia, 39% say they are very or somewhat confident in his ability to handle an international crisis, down from 48% six months ago. Six-in-ten say they are not too confident (14%) or not at all confident (45%) in Trump to handle an international crisis. The share expressing no confidence in Trump to handle an overseas crisis has increased seven percentage points (from 38%) since April.
A similar pattern is seen in public confidence in Trump to manage the executive branch effectively and to work well with Congress. And just 39% say they are at least somewhat confident in Trump's ability to handle the situation with North Korea; 13% not too confident and 46% are not at all confident in Trump in dealing with North Korea.
.......
(differing levels of trust for the two Parties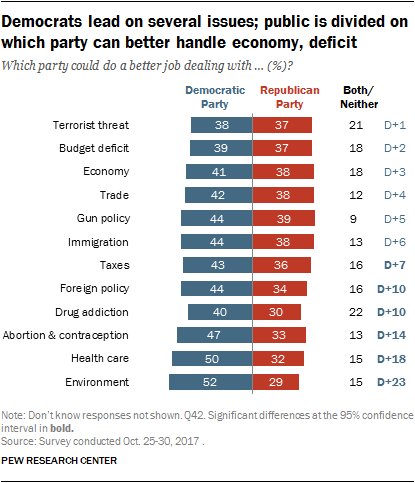 http://www.people-press.org/2017/11/02/d...l-leaders/
If you are a Republican ... ouch! And look how little confidence Americans have in this President's handling of the menace of North Korea!
The ideal subject of totalitarian rule is not the convinced Nazi or the dedicated Communist  but instead the people for whom the distinction between fact and fiction, true and false, no longer exists -- Hannah Arendt.